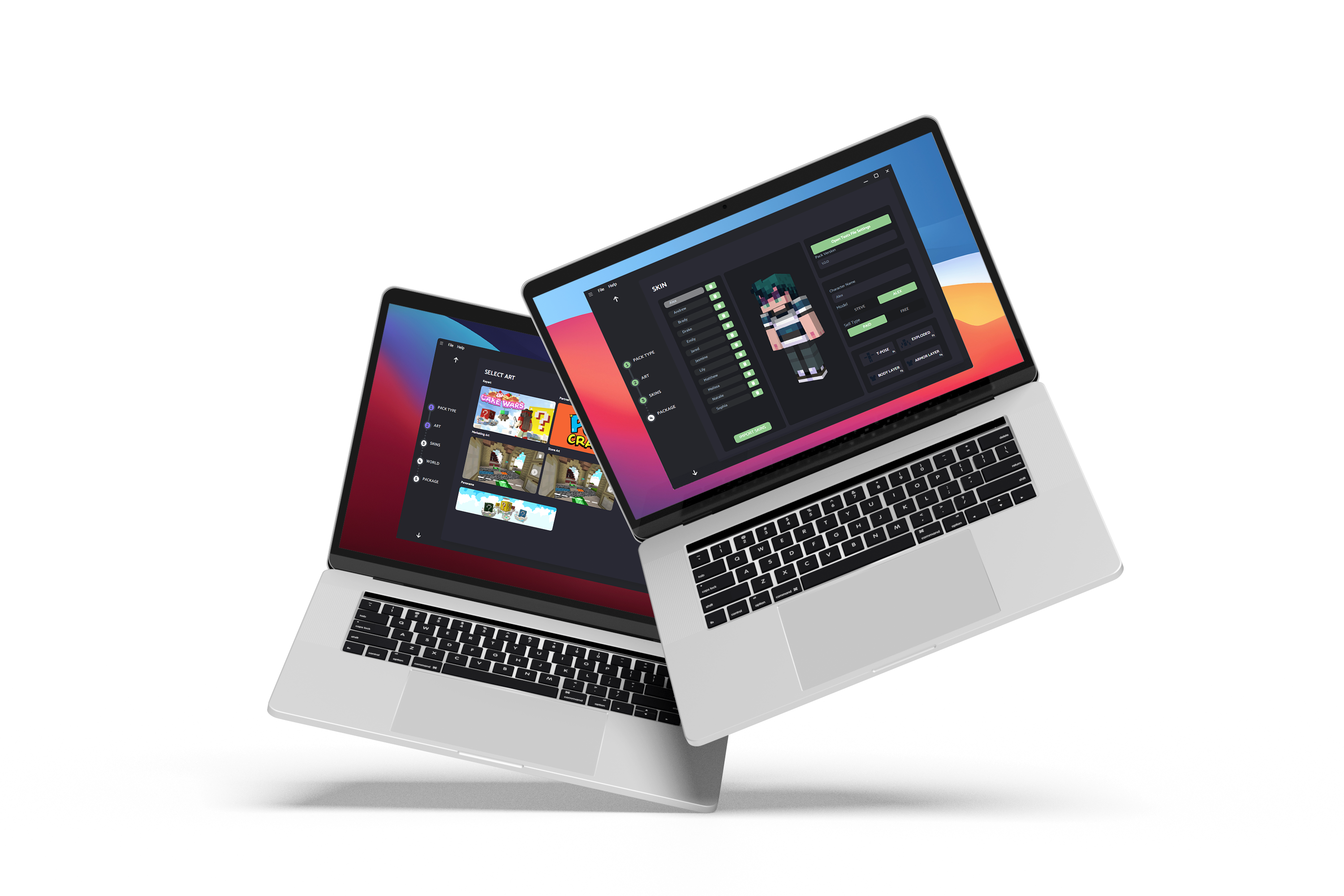 Do you wish packaging products could be just a little bit easier?
Say hello to packager, the quickest and the easiest way to compile and package your Minecraft marketplace content without any of the stressful files.
Skin Packs
Review your skins in a 3D render, manage your skin names and have a file ready to upload in minutes.
Worlds
Packaging worlds has never been easier, select your world, add a behavior pack and lang files all in one place.
Texture Packs
Import your textures, check for missing files and produce a compiled package within minutes.
Combine
Combine multiple product types and quickly package them so they're ready to be submitted to Microsoft.
Introducing Packager by Portal: Your Ultimate UGC Game Content Formatting Solution for the Minecraft Marketplace.
Unleash your creativity and bring your Minecraft game content to life on the marketplace with Packager by Portal. Designed specifically for creators like you, Packager is a cutting-edge tool that streamlines the process of packaging user-generated game content (UGC) for seamless release on the Minecraft marketplace.
Effortless Packaging
Take the complexity out of packaging. With an intuitive interface, you can easily import your content and let us handle the intricate requirements of the Minecraft marketplace.
Optimized Assets
From textures and skins to worlds and add-ons, Packager optimizes all your assets for maximum performance and visual appeal. Your players will experience your content precisely as intended.
Automatic Validation
Worried about missing essential components? Packager's automated validation process highlights any potential issues or missing elements in your UGC, ensuring your submission is complete and ready for review.
Compatibility
Ensure your creations meet the marketplace's stringent guidelines effortlessly. Packager ensures that your UGC is packaged in the exact format required for quick and hassle-free approval, saving you time and frustration.
Regular Updates
The Minecraft marketplace is dynamic, and so is Packager. We stay updated with marketplace changes and ensure our tool evolves accordingly, so you're always equipped to deliver content that aligns with the latest requirements.
Security and Reliability
Your hard work deserves the best protection. Packager keeps your UGC safe and secure throughout the packaging process so you can confidently prepare your content for release.
Whether you're an experienced developer or just starting your journey as a Minecraft content creator, Packager by Portal empowers you to focus on the fun part—designing amazing UGC. Leave the technical intricacies to Packager and let your creativity shine on the Minecraft marketplace.
Don't wait to see your ideas come to life—try Packager by Portal today and revolutionize how you format and release your UGC game content on the Minecraft marketplace. Your creations deserve nothing less than the best, and Packager is here to make that a reality.
Got a question?
Do you have a question we haven't yet been able to answer? No problem, reach out to our support team and we will help you as best as possible!
Join Discord
Contact Us